King Cruiser Wreck
Written by Stephen Burton
between Phuket and Koh Phi-Phi
Shipwreck GPS Locations N07.47.830, E09.83.889
Depth 32meters ; Suitable for air, nitrox, technical diving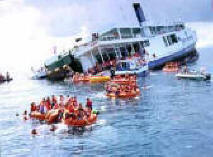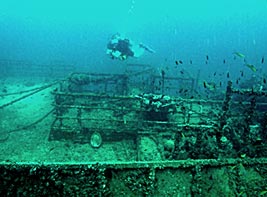 Underwater picture (above) courtesy of Deep-Blue Divers http://www.deep-blue-divers.de
Details of sinking
The King Cruiser sank on the 4th of May 1997 apparently miles off course after striking the popular Phuket dive site Anemone reef on it's way to Koh Phi-Phi from Phuket. So far was the vessel off course, and so in need of a decent wreck diving site was Phuket, that local diver joked that the captain took a massive bribe to slam the vessel into the reef. As seen by the picture above, no one got hurt during the sinking apart from the insurers.
Specifications
length:- 85m, Vessel type:- Steel car and passenger ferry, Displacement 2,250 tons. A big one!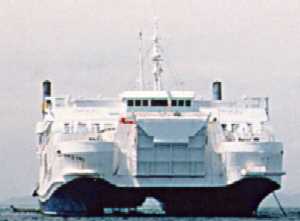 Wrecks details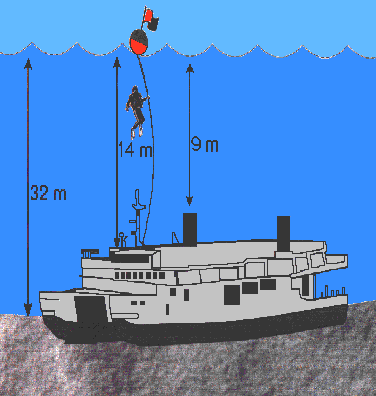 This recent wreck lies upright on the sandy bottom and comes up to within 10m of the surface. It lies about 1.5hr offshore from Phuket and about 2hours from Krabi by the normal 'slow boat' trips, and is a popular destination for divers from both places. Though the  wreck was almost completely intact after being release from the salvers, it is of low cost construction and deteriorating quickly. Barracudas and Whale-Sharks are often seen patrolling the wreck, with the usual large grouper and lionfish lurking in the darker more 'technical' penetration areas. The Big open passage ways, car deck, and bridge area are relatively safe penetration for all but the most muppety divers, but strong currents and rough seas due to it's exposed location, generally make this site more suitable for experienced recreational divers. Tech divers will find this a simple wreck to explore, and most techies I know have introduced their teenage children to the engine room…
Update Sep 2003 (Courtesy of  Reef watch )
The main-deck level above the car deck has now partially collapsed, making penetration through this area more risky
Latest update Feb 2018 (Courtesy of Peter Goebels )
King Cruiser Wreck  32 meters. One Moring line which takes you directly to the wreck. The shot line is very long and feels like it is on a 45 deg angle. This makes a slow ascent easy as well keeping divers a bit separated during the safety stop.
Jump lines are needed to tie into the guide lines. This wreck has collapsed in some areas and is a great wreck for teaching wreck diving. How ever it is very DANGEROUS to enter this wreck without proper training.
At the far end of the wreck where the cars would drive in there were a dozen Bamboo sharks.
Current location on our trip was N 07.47.839    E 09.83.895 Keep in mind with such a long line the mooring buoy maybe 50 or more meters away from the posted location
GPS Location
(Awaiting updated position)
Last dived by:-
Ivan Hiver at Lanta Divers Co +66 (0) 75 68 42 08
Photographic Picture Sources and credits for this wreck courtesy Big Ian (RIP) of Reef watch
Computer dive map graphic courtesy of Klaus & Mike Rode, Harry Barthel at the Dive Jobs bulletin board